Anyone like Breaking Benjamin??
Aside from Papa Roach, I LOVE Breaking Ben. They are amazing live and their music is the most unique. I've been to 8 of their shows thoughout the years. If you've seen them live or just love their music, give me some feedback on them :)

here are a few videos from concerts:





Some pics...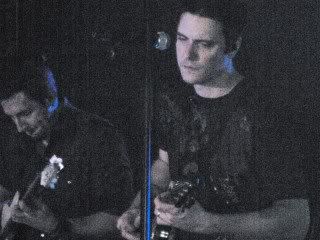 P.S. Sick Puppies are the fucking shit too!!





Redhead :D
Replies to This Posting
RE: Anyone like Breaking Benjamin??

I love Breaking Benjamin!Their a pretty kick ass band. My friend and I got yelled at by our teacher by singing dear agony during class lol.
freak on a leash!

RE: Anyone like Breaking Benjamin??

i listen to em sometimes, my fave is "So Cold" and "Breath",
haven't checked their new stuff though..

RE: Anyone like Breaking Benjamin??

Saw them with Shinedown&Nickelback last week and they actually kinda disappointed me...I love their music and heard they were good live, but for me they did not stand out compared to Shinedown--->now they are amazing live.

RE: Anyone like Breaking Benjamin??

i really like them. my favorite songs are the diary of jane and i will not bow

RE: Anyone like Breaking Benjamin??


Saw them with Shinedown&Nickelback last week and they actually kinda disappointed me...I love their music and heard they were good live, but for me they did not stand out compared to Shinedown--->now they are amazing live.

You must have gone to the verizon in Indy right? Too bad you were disapointed! I personally think BB does better when they headline. Ben Burnley is a hilarious guy! I've seen them play live 8 times, and I love it. I'm not a big fan of Shinedown, but I do like some of their music.

Redhead :D

RE: Anyone like Breaking Benjamin??


i listen to em sometimes, my fave is "So Cold" and "Breath",
haven't checked their new stuff though..

Good songs. You've got to check out the new BB cd! Its one of my favorites...its called Dear Agony, amazing album!

Redhead :D

RE: Anyone like Breaking Benjamin??

I don't know them much but I like some of their songs and it is a good rock band :) I really like the song the Diary of Jane and Blow me away was good either I think :D:D

RE: Anyone like Breaking Benjamin??





i listen to em sometimes, my fave is "So Cold" and "Breath",
haven't checked their new stuff though..




Good songs. You've got to check out the new BB cd! Its one of my favorites...its called Dear Agony, amazing album!
Redhead :D

yeah, i know about Dear Agony album,

but i never had the time to check the songs out..

RE: Anyone like Breaking Benjamin??

I recommend that you do :)
Redhead :D

RE: Anyone like Breaking Benjamin??

I flipping loveee Breaking Benjamin! They are my second favorite aside from P.R Hahaha i just saw them in concert a couple of weeks ago in Milwaulkee with Nickleback Shinedown and Sick Puppies! I love all their songs but my 2 favorite oreThe Diary of Jane and I Will Not Bow:]

RE: Anyone like Breaking Benjamin??

There are cool =P
__________________________________________
The time has come for me to face it I can't refuse the war inside.Cause we have had enough,
All the violence has touched.Every part of our lives,Our innocence is gone tonight
- Papa Roach,Had Eough

RE: Anyone like Breaking Benjamin??

I do like Breaking Benjamin I saw them last year with Papa Roach they are good.

RE: Anyone like Breaking Benjamin??

hell yes! BB puts on a good show :P

RE: Anyone like Breaking Benjamin??

Hell yes!! PR, BB, and TDG are my favorites. Gotta show them love too :) & yes they do put on amazing live shows!! I would love to see PR and BB play on the same tour :D
Redhead :D